A.Timberlyne/Weaver Dairy Road

B.Eastgate Shopping Center

C.Glen Lennox/Highway 54East

D.Chapel Hill Center/ Franklin-Columbia St.

E. Franklin St/Estes Dr.

F.Main Street/Carrboro

G.Willow Creek/Jones Ferry Road

H. Carrboro Plaza/Carrboro

I. Europa Center

J. Airport Rd./Estes Dr.

K.University Mall

L. Rosemary St/Carrboro

M.West Main St./Carrboro

N. Rams Plaza

O. Village Plaza


...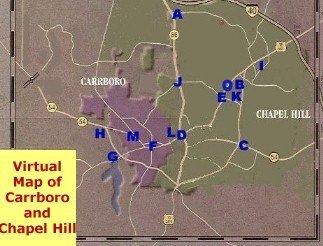 Chapel Hill-Carrboro Border Area
Love Overboard Kennels

Kentucky Fried Chicken

Marathon
Restaurant

Blue Hand

Pager City

Gates of Beauty Body Shop

Meineke Discount Mufflers

Archer Graphics

Pizza Hut

Webster's Cleaners

Perform-
ance Bicycles

Art Gallery

Nice Price Books

Dominos Pizza

Butler's Auto Repair/ Service

Picture Perfect Hair/Nails Salon

Pathways

Mane Street Hair Salon

Church
Click GO to Find
the BEST AIR FARES & HOTELS!