A.Timberlyne/Weaver Dairy Road

B.Eastgate Shopping Center

C.Glen Lennox/Highway 54East

D.Chapel Hill Center/ Franklin-Columbia St.

E. Franklin St/Estes Dr.

F.Main Street/Carrboro

G.Willow Creek/Jones Ferry Road

H. Carrboro Plaza/Carrboro

I. Europa Center

J. Airport Rd./Estes Dr.

K.University Mall

L. Rosemary St/Carrboro

M.West Main St./Carrboro

N. Rams Plaza

O. Village Plaza


...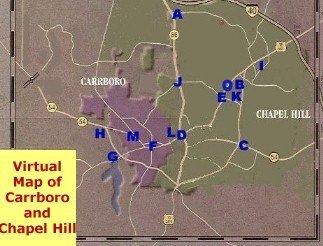 Chapel Hill- Rosemary and Henderson Streets
Eerie Insurance Group

The Tree House

Orrin Robbins
Attny

K. Wright Attny

Centura Bank

BB & T Bank

Chapel Hill Realty Group

Glenn's The Tailor

Bub O'Malley's Pub

Celeste Hunter Dentistry

James Webb Architect

Council Travel

Molly's Pub

Havana Cuban Rest.

Ram Theaters

Back Door CD's

The Independ- ent Weekly
Click GO to Find
the BEST AIR FARES & HOTELS!