A.Timberlyne/Weaver Dairy Road

B.Eastgate Shopping Center

C.Glen Lennox/Highway 54East

D.Chapel Hill Center/ Franklin-Columbia St.

E. Franklin St/Estes Dr.

F.Main Street/Carrboro

G.Willow Creek/Jones Ferry Road

H. Carrboro Plaza/Carrboro

I. Europa Center

J. Airport Rd./Estes Dr.

K.University Mall

L. Rosemary St/Carrboro

M.West Main St./Carrboro

N. Rams Plaza

O. Village Plaza


...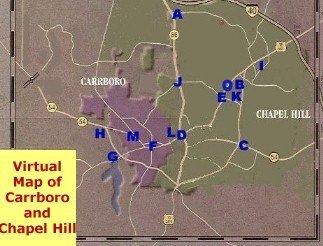 Carrboro-East Main and Greensboro Streets
Nations Bank

Friendly Barbar Shop

Creative Hair/Nails Boutique

TIPS

ACME Food & Beverage Rest.

The
Speakeasy

Touchwood Antiques

Scott's Rent-All

Andrews- Riggsbee Hardware
Click GO to Find
the BEST AIR FARES & HOTELS!