Links to related topics:
David Hudson
(semi-technical lecture)
David Hudson
(made easy)
Preface
To whom it may concern,

When reviewing this report I suggest that one applies an open mind to its contents, for without any doubt, the discovery made by Mango Metals Partnership will be a pivotal point in our social and economic history.

As we near the end of this century, many new advancements in physics are being incubated. One area of obscured research is the formation of new elements using low energy nuclear transmutation. In general terms this translates to having the ability of changing one metal to another. Yes, the ability to produce gold and other valuable metals from metals of a lesser value.

One could use the term "alchemy" and would not be far from the truth as it relates to the cargo of this unknown ship of the 1800's.

For some reason the Spanish(The determination of Spanish origin is based on the artifacts found at or near the wreckage.) decided to carry over 40,000 pounds of material from Central or South America back to their Country, which when reviewed by science in its true singular sense has the appearance of common limestone. This material when tested in its singular state by respected laboratories shows that no intrinsic value exists to this elusive cargo. However, when this material is properly prepared and mixed with lesser metals such as lead, a transformation appears and macro quantities of gold and platinum are produced.

One may call it what they wish, but the reality of this discovery is so frightening real that if misused, could cause the economic structure of our society to collapse. One would question this by asking -- "How much gold could one produce from this cargo?" That is the incorrect question, for the importance is not in how much of this cargo is under the ocean, but can it be replicated?

The somber answer to this question is - yes…….

Joe E. Champion
[Preface][Introduction][Table of Contents][Scope][Physical History]
[Analytical History][Summary of Analytical History]
[Back to Top]
---
INTRODUCTION-THE SEVEN STEPS TO CHURCH
Iit is a well established fact that the Europeans have been advanced in the art of metallurgy for centuries. The Spanish are no exception to this fact.

Having said this, the Spanish developed a series of protocols that allowed for the accelerated collection of precious metals by blending selective ore bodies. Was this the start of metallurgical science, or the foundation for low energy nuclear transmutation (alchemy)?

The SEVEN STEPS TO CHURCH is a translation from the title of a Spanish process which utilized seven steps in the formation of precious metals, with the emphasis being gold. What one will find of interest if they study the process is that even the Spaniards recorded that during the process, they would not see the presence of any precious metals until the second step. And from that point forward the gold would appear to manifest itself.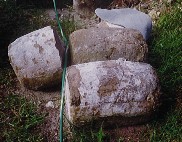 Did they find the elixir which caused the formation of precious metals? At this time I would have to say, without question, the answer is yes. To understand the mechanisms involved, the following report provides the fundamentals of how the 40,000 pounds of material discovered by the Mango Metal Partnership plays an intrinsic role as part of the SEVEN STEPS TO CHURCH.
[Preface][Introduction][Table of Contents][Scope][Physical History]
[Analytical History][Summary of Analytical History]
[Back to Top]
---
TABLE OF CONTENTS
PREFACE
INTRODUCTION
SCOPE
PHYSICAL HISTORY
ANALYTICAL HISTORY
SUMMARY OF ANALYTICAL HISTORY
PHYSICAL PROPERTIES OF GRAY MATERIAL
PROTOCOL FOR SCIENTIFIC INVESTIGATION
SCIENTIFIC FINDINGS
SPECTROSCOPIC, MICROSCOPIC, X-RAY DIFFRACTION AND GENERAL CHEMISTRY ANALYSES
Earthtech International - Scott Little 's Baseline Report
Mark Hugo 's Spectroscopic Analysis
Atlantic Pacific Trust - William Higgin's Baseline Report
William Giffins Baseline Report
Wet Chemistry Analysis of Grail Matter -- Joe Champion
FIRE ASSAY AND EXTRACTIVE METALLURGICAL TESTS OF GRAY MATERIAL
Western Precious Metals -- Ed Horton
Bill Giffin and Joe Champion :
TRANSMUTATIVE TESTS PERFORMED USING THE GRAY MATERIAL
Barry Merriman and Bill Higgins
Bill Giffin and Joe Champion
Gray Material Transmutation Test 1
Gray Material Transmutation Test 2
Dallas Testing -- Dan R. York
Gray Material Transmutation Test
Baseline Transmutation Test
TRANSMUTATIVE TESTS PERFORMED USING THE D FROM CANNONS
Joe Champion and Bill Giffin
TRANSMUTATIVE TESTS PERFORMED FROM SYNTHESIZED GRAY MATERIAL
Synthesized Gray Material Test
TRANSMUTATION TESTS USING GRAY MATERIAL with GOLD INQUART
SUMMARY OF SCIENTIFIC FINDINGS
General.
Transmutation via Hetro-reaction Schemes
Mechanisms Required for Nuclear Transmutation
Dealing with Nuclear Isotopes Produced from Low Energy Nuclear Reactions
Computer Modeling -Jim Uban
CONCLUSION
ATTACHMENT "A" -- PROFILE OF JOE CHAMPION
ATTACHMENT "B"-- THE FORMATION OF GOLD FROM MERCURY
ATTACHMENT "C" CONVERSION OF LEAD TO GOLD
ATTACHMENT "D" NUCLEAR PROBABILITIES <0.01 MEV
ATTACHMENT "E" NUCLEAR PROBABILITIES <0.001 MEV
[Preface][Introduction][Table of Contents][Scope][Physical History]
[Analytical History][Summary of Analytical History]
[Back to Top]
---

THE FOLLOWING REPORT:
ECONOMIC AND PHYSICAL ASSESSMENT OF MANGO METAL PARTNERSHIP'S
CARIBBEAN SALVAGE
IS THE PROPERTY OF MANGO METAL
PARTNERSHIP

PREPARED BY JOE E. CHAMPION
SEPTEMBER 1996
SCOPE
The Mango Metal Partnership requested a concise report to determine the deposition of the material salvaged from an approximate 100 year old wreckage of one or more vessels in the Bahamas. The material consists of various types of metallic artifacts, barrels of a gray siliceous metallic matter and black rocks. It is my understanding that the material was found in less than 50 feet of wafer and at points throughout history the material could have been exposed to air.

Without stating, there are always estranged stories and myths surrounding archeological finds, and these myths seem to become enhanced when a shipwreck is involved. The particulars surrounding this discovery have until this point been embellished with an aura of mysticism and unknowns that have cause untold mental anguish on its discoverer and people associated with the disposition of the cargo for the past six years. Hence the purpose here is to separate the facts from fiction regarding this discovery.
[Preface][Introduction][Table of Contents][Scope][Physical History]
[Analytical History][Summary of Analytical History]
[Back to Top]
Physical History

Since the purpose of this report is to determine the physical properties of the discovery, I will forgo any attempt to report its discovery and/or recovery.

As mentioned the discovery is divided into three general categories, which are further defined as follows:

1. Metallic Artifacts

a) Cannons
b) Cannon balls
c) Trunnions, fittings and associated metallic pieces
d) Assorted metallic bars

2. Gray material

a) Approximately 140 barrels with an average weight of 400 pounds of gray siliceous material.

3. Black rocks

a) Approximately four tons of a siliceous rock which is not indicative of the local geological formation.

Since 1990, fractions from each of the prementioned have been analyzed by various technologies and have indicated everything from millions of dollars of value, to the only the historical value of similar artifacts.
[Preface][Introduction][Table of Contents][Scope][Physical History]
[Analytical History][Summary of Analytical History]
[Back to Top]
Analytical History

The following is based on documentation supplied by Mr. David Econopouly, a principle of Mango Metal Partnership.

December 1990 -- Vern McMahon, Ph.D. of Auro Research Laboratory tested an unknown bar from the metallic artifacts. The results obtained by electromagnetic assay(?) said that the bar contained -37.81% by weight of rhodium metal.

January 1992 -- Mr. C.W. Ammen(C.W.Ammens is a respected metallurgist and his practices are in line with those of the Colorado School of Mines. He is also author of "Recovery and Refining of Precious Metals", Van Nostrand Reinhold, copyright 1984) reported that the bars contained an average of 38% rhodium metal. Type of analysis was not released.

July 1992 -- Mr. Dayne Chastian, an independent assayer and refiner reported the following:

Cannon ball-- Gold, Rhodium and Iridium in concentrations of 30-40% with gold being the predominate metal.

Black Rock -- Gold, Rhodium and Iridium in concentrations of 3

Rock Samples -- Gold, Rhodium and lridium in 3-4% quantities.

No mention was made as to the type of analytical procedure utilized in the report. However, in a subsequent telephone conversation prior to this report, Mr. Chastian reported that he used standard digestion technologies with resin collection (final collection in lead), collection in copper and electro-digestion (also an industrial standard process) and direct scorification and cupellation.

September 1992 -- Mr. Zig Bremmer and associates from Germany, all of Bremmer Technology Corporation, Scottsdale, Arizona reported the following:

| | | |
| --- | --- | --- |
| Element | Cannon | Cannon Ball |
| Pt | 67.00% | 42.00% |
| Au | 2.40% | 3.40% |
| Pb | 5.00% | 3.00% |
| Ir | 1.60% | 0.21% |
| Rh | 0.17% | 0.44% |
| Fe | 6.50% | 0.10% |
| Ag | 0.24% | 0.15% |
| Pd | 0.19% | 0.11% |
| Sn | 0.17% | 0.03% |
| Cu | 0.10% | 0.13% |
| Ru | 0.02% | 0.00% |

| | | |
| --- | --- | --- |
| Element | Cannon | Cannon Ball |
| Pt | 50.00% | 50.00% |
| Au | 2.10% | 4.70% |
| Pb | 4.00% | 3.70% |
| Ir | 0.70% | 2.00% |
| Rh | 0.58% | 0.60% |
| Fe | 0.33% | 0.20% |
| Ag | 0.16% | 0.25% |
| Pd | 0.16% | 0.13% |
| Sn | 0.18% | 0.08% |
| Cu | 0.00% | 0.08% |
| Ru | 0.02% | 0.03% |

Here one can observe a repeatability of analysis. However, please note that the samples were prepared by scorification in lead then analyzed by a Direct Coupled Plasma Electron Spectrometer (DCP).

In an explanation letter Mr. Bremmer noted that the platinum was in a form of clusters and could not be considered as "free metals." He continued by stating, if you want to break the metallic clusters it is necessary to use Bremmer Technology.

September 1992 -- The Institute for Spectrographic Research reported that samples from the cannon and cannon ball were analyzed by X-ray florescence and they found a high concentration of gold and the platinum metals.

November 1993 -- Analysis by an unnamed laboratory reported the qualitative presence of elements as follows:

-Tan Sample (clay) -- magnesium, aluminum, silicon, chlorine, calcium and a trace amount of iron
-Cannon -- iron (no other metals reported)

-Black Rock -- iron, silicon, calcium, titanium, with trace amounts of aluminum and magnesium

August 1996 -- American Society for Applied Technology located in Silver City, New Mexico performed various assays on a bar, cannon and precipitates (?). Using standard metallurgical fire assay techniques they reported no precious metals by cuppellation. Following is a Scanning Electron Microscopy (SEM) report on the cannon:

-Cannon -- iron, manganese and sulfur

August 1996 -- In a separate document the American Society for Applied Technology reported that a sample from the black rocks contained +99.0% silver.

EVEN THOUGH ADDITIONAL HISTORICAL DOCUMENTATION may appear in the future, this report will not be amended, for this data establishes the fundamentals.

[Preface][Introduction][Table of Contents][Scope][Physical History]
[Analytical History][Summary of Analytical History]
[Back to Top]

Summary of Analytical History

In an attempt not to dwell on the past, I find myself forced to discuss some of the anomalies. The reason will soon become obvious, for this history offers a variety of clues as to the potential worth and understanding of this estranged cargo.

Select analyses showed high values of gold and platinum metals, while others claimed the material to be basic iron. However, after talking to many of the assayers, it became obvious that there was a continuity of precious metals being reported, or, as in some cases, not reported.

In each case where precious metals were reported, an anomaly existed, the material was mixed with a base metal. In the majority of the cases it was lead. This important observation is the key info understanding the facts behind this esoteric discovery.

[Preface][Introduction][Table of Contents][Scope][Physical History]
[Analytical History][Summary of Analytical History]
[Back to Top]